Digital Resources
CCRLD has access to two database packages from leading publishers: Gale and EBSCO.
For both packages, use your library card number to log in.
If that does not work for Gale, use goldfinch instead.
Curated for all who teach!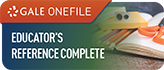 This collection of more than 1,100 periodicals and 200 reports is a great resource for any educator—from the school teacher and administrator to those studying in the field at the collegiate and graduate level. It provides full text for titles in the ERIC database and covers multiple levels of education from preschool to college, and every educational specialty—such as technology, bilingual education, health education, and testing. It also provides insight on issues in administration, funding, and policy.
Research Databases by Subject
For high school and college students, or anyone interested in a "deep dive" into a specific topic or subject area, the Gale OneFile database collection includes a wide array of subject-specific resources to choose from.